Real gents know how to shave with a straight razor and an essential skill to learn if you want to use a straight razor is how to straight razor strop.
Not only is it manlier and just plain cooler, it also has plenty of benefits over using a flimsy disposable razor.
Learning how to strop a razor is an important part of the experience.
Why A Straight Razor
In case you are sitting on the fence about getting a straight razor, let's review a few of the major benefits before we jump into stropping.
For one, it simply provides better, smoother shaves. Your skin will feel as soft as a baby's behind—which your girlfriend will love.
It's also cheaper and better for the environment—you won't be associated with all the waste that disposables create, from the razors themselves to the packaging and manufacturing process.
Shaving with a straight razor also requires that you slow down and take your time while you shave. This kind of mindfulness has plenty of benefits, just like meditation. In short, you'll basically be an evolved human.
There are some things you need to take into consideration as a straight razor shaver. Your razor is a very important and sacred tool—you need a nice one and you need to keep it sharp.
Dull razors can irritate your skin and cause unsightly nicks and scrapes, and that's not very gentlemanly at all. Here's a quick rundown on what you can do to keep your razor in tip-top shape—and things you should never do at all.
Sharpening vs. Stropping vs Honing
You should sharpen your razor whenever it starts to feel a bit dull or when you find you have to apply excess pressure in order to get a clean shave. That's what can lead to cuts and nicks—nobody wants that.
You can either strop your blade to sharpen it or reset the edge on the blade if it's just plain dull.
I know, it sounds confusing. We are going to break it down for you, keep reading.
A sharp well made blade is the most important aspect of straight razor shaving. As our founder D'rock put it in a recent interview:
"Cheap straight razors will either be dull from the get go or go dull after a few shaves. That's why you are always better off investing in a great blade."
It's important to note that honing is different from stropping. Honing requires a set of wet stones and lots of practice. If you want to learn about honing you can check out this article or download our Free Honing Guide.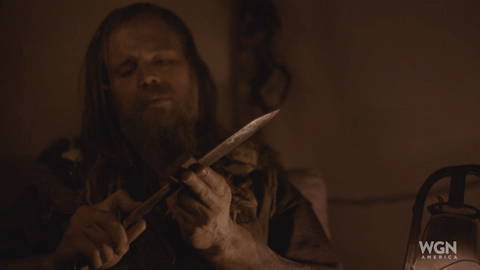 Anyway, you need ot learn how to strop before you learn about honing.
Stropping is more of a fine tuning process that helps keep the edge of your blade sharp between uses. It's like daily maintenance.
How To Straight Razor Strop
This is a strop and follow the arrows on how to use it.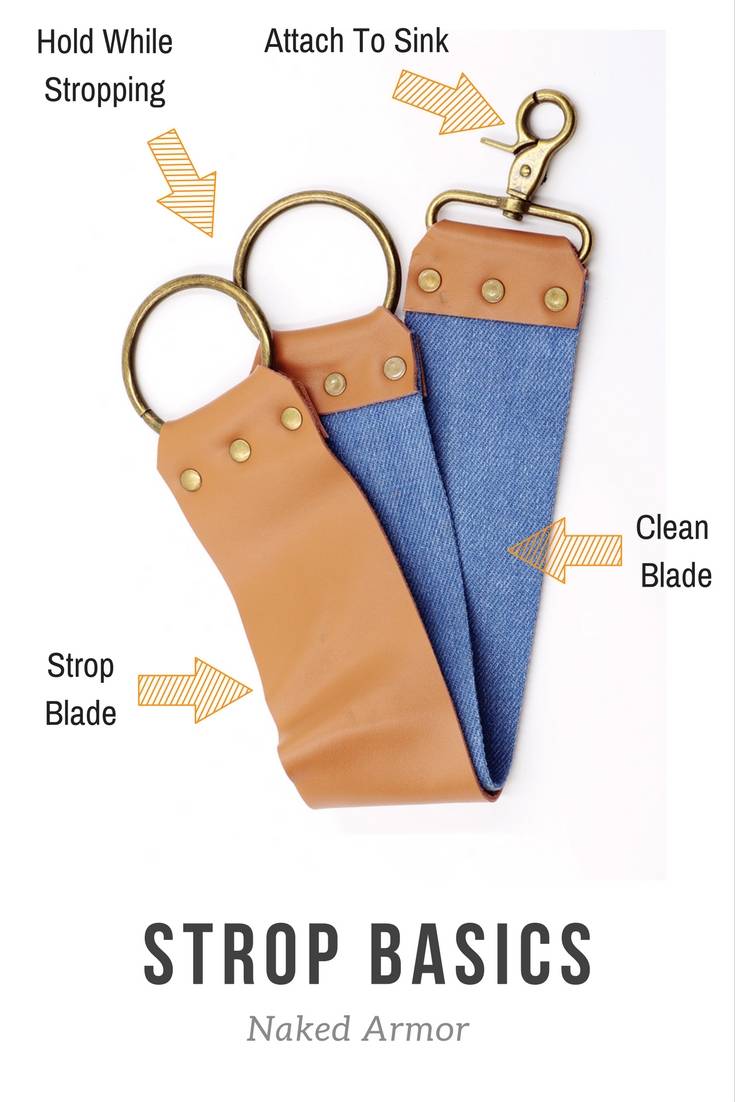 You strop on the leather surface, not the rough leather bottom, but you use the very top of the strop. The blue part is for a light cleaning of the edge before you start to strop.
Stropping is a motion that pulls the cutting edge of a blade away from a strip of leather in order to sharpen the blade. It's a great method of keeping a razor clean and easy to use as it produces a very sharp final edge.
Stropping helps smooth the rough edges off your blade and sets the teeth in alignment—it gives a straight razor a keen edge to help make shaving easier. 
Hanging strops are the most common. They consist of a canvas strip and a leather strip.
There are two key things to consider when you are stropping your razor:
1. Always draw the blade away from the cutting edge so that the razor doesn't dig into the leather.
2. Hold the razor at the same bevel angle consistently throughout the stropping process. If you raise the angle up or lower it down, it will affect the edge of the razor in the wrong way and you will destroy the edge.
Check this quick and easy animation:
Use a strop that is about a foot long and a few inches wide. If the strop is too long, it's hard to control it, and if it's too short, you have to keep repositioning the razor, which can lead to uneven sharpening.
Count the number of strokes you make—start with 15 to 20. If it's still not sharp, strop on. You can see the effect of stropping by noticing the black marks of metal that have come off the blade onto the leather.
Exercise care while you are stropping so you don't cut yourself, and try not to overstrope—knives can only get so sharp. 
Hang the strop from a bathroom drawer by one of the hooks on the strip. Hold the handle at the strop's bottom in your left hand, and pull the strop tight. Hold the razor by its handle, and place it flat on the strop end farthest away from you.
Draw the blade toward you, with the edge pointing away from you, and then rotate the razor to draw it away from you, with the edge pointing toward you. Keep the strokes slow and even.
After you get more familiar with the process, stropping should only take you 30 seconds a day, and you'll find it keeps your razor in great shape so you can enjoy a smooth shave every time!
HOW TO USE A STROP STRAIGHT RAZOR
Strop Processed Explained
Build Your Own Strop