There is no question as to why Straight Razor Shave Is Better; there are many of reasons and I know you are a fan of wet shave or you wouldn't be here.
If you shave wet then my guess is that you have used a shaving razor and a shaving brush together.
Shaving brushes are just good for a number of various reasons but the benefits are only as good as you can get a proper shaving brush.
With so many brushes to choose from the challenge is usually knowing which is the right one for you.

Basically, the debate is usually around whether the synthetic types are better than the traditional badger brushes.
So, we are going to explore both types and see what advantages the synthetic brush has over the badger hair brushes.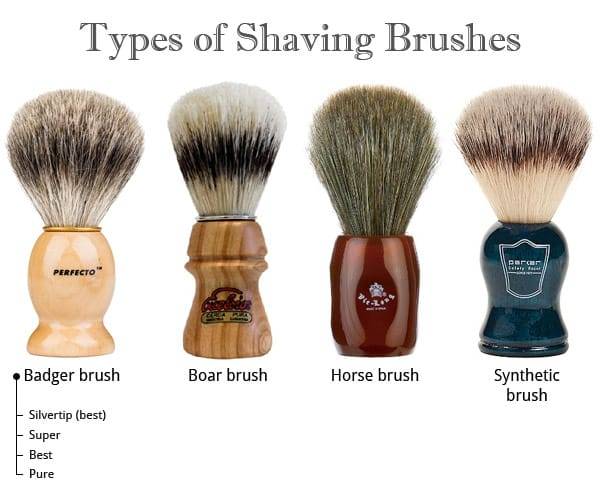 Badger hair brushes

The badger hair brushes are the poster child of traditional shaving tools.
They come in various types with the best of them being the ones made from the more finer pliable hairs found on the badger's body.
The average brushes are made from the hair under the belly of the badger.
Synthetic shaving brushes

The synthetic shaving brushes are made from synthetic bristles. These brushes brought about a significant change in shaving brushes in more than 250 years.

Synthetic bristles are very soft and very effective in preparing the beard for shaving thanks to the resistance they offer which raises the beard up.

Since the bristles of synthetic shaving brushes are not absorbent, you will need to use less soap or cream to lather up.
So Which Shaving Brush Is The Best?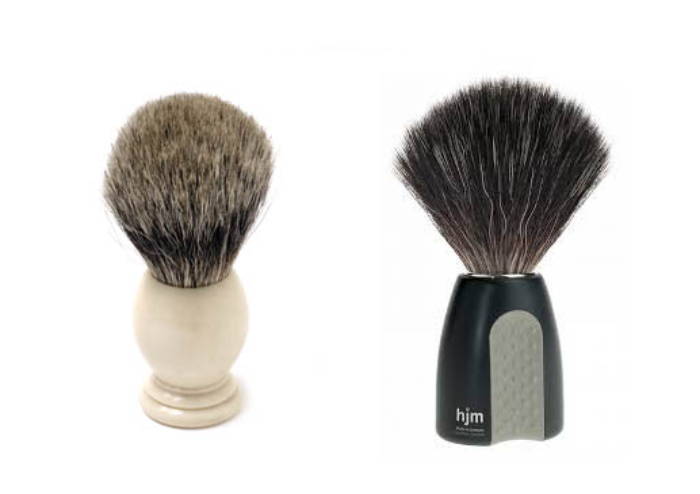 Comparing the two, it is easy to see that synthetic brushes offer many more benefits than badger hair brushes.
The only advantage that badger hair brushes have is that the bristles are tougher and therefore exfoliate the area to be shaved saving you the trouble of having to do so yourself.
On the other hand, there are various benefits that synthetic brushes have including;

• They don't use animal products or parts. This is big especially for people who are conscious of the environment.

• Synthetic brushes are fast drying. Unlike badger skin brushes that can take ages to dry, synthetic shave brushes don't take time at all.
Because they aren't very absorbent, they can dry very fast which makes them great to use on the go.

• If you are always traveling and you need to shave regularly during your trips, then this is the kind of brush to have in your wash bag.
You can easily pack this without worrying about having any dampness, leakages or the smell of dampness in your luggage.

• They are more economical. Synthetic brushes are the closest you can get to the feel from a brush made from the natural material without breaking the bank.
You can spend up to $20 less on the synthetic brush and enjoy just the same experience.

• Lathers much easily and luxuriously. Because synthetic brushes are made from non-absorbent materials, they don't take up much soap, cream or water to lather.
This helps in forming lather quickly while forming very fine and rich lather.
• Synthetic brushes last longer compared to badger hair brushes. The synthetic brushes can do pretty well in any environment with less care.
Badger hair brushes will easily give way to damage especially the brushes that are made from a silver tip.

• If you have ever left the brush standing upright after use, you noticed that this leads to fraying of the bristles, a developing mold or losing shape.
When using synthetic brushed this is not a big issue though the gentleman's code demands that you store it in the upside down position for effective drying.

• Synthetic brushes work well on soft skin and pretty much many skin types. The advantage here is that they are not tough and therefore less abrasive to the skin.
A lot of professional barbers we work with say that the best skin is with those that use badger hair shave brushed but rest assured synthetic hair brushes have the same capacity to exfoliate dead skin while shaving.
Because the bristles are soft, there is less irritation on the skin.
Because of the construct of the synthetic hairs, the brushed may feel thinner and bouncier during lathering but this texture is ultimately crafted that way to work well for your skin.
Are There Any Benefits Of Using A Shaving Brush?
Maybe you have been using an electric or a cartridge razor and you are wondering what the fuss is about using shaving brushes.
Wet shaving gives you better results and takes care of your skin than dry shaving.

The primary goal of using a shaving brush is simple; to ensure your face is well lathered in preparation for the shave.
You are probably asking why you cannot just use your hands, well here are the benefits of using a synthetic shave brush;
1. Makes It Easier To Lather More Consistently
Using a brush will ensure that you get a much more consistent lather faster and more evenly than just using your hands.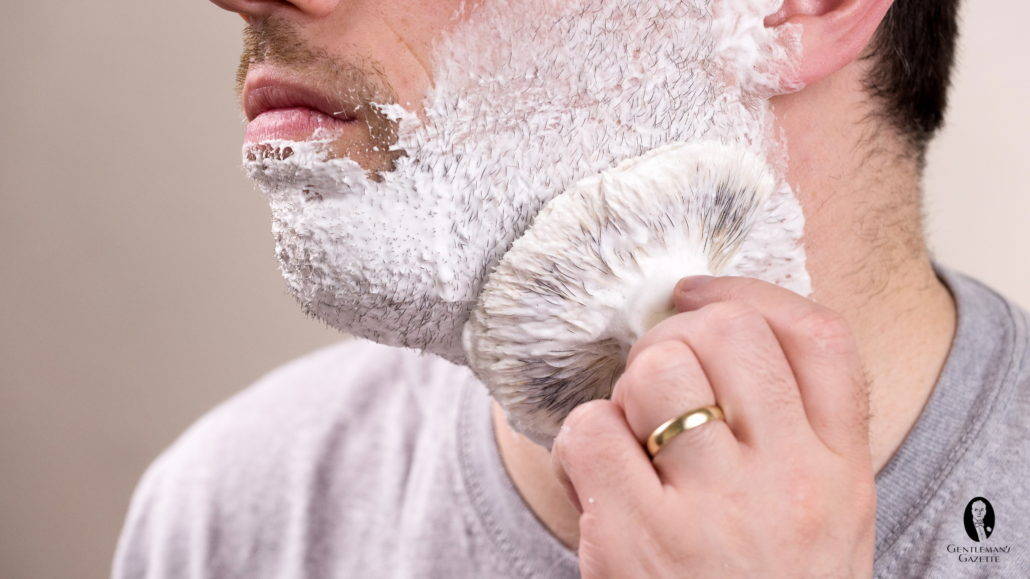 2. You Get Thicker Lather
Thicker lather means a more hydrated and emollient face lubrication.
Shave brushes enable you to make good use of soap or creams. With a brush, you get more lather using less soap and therefore save you money in the long run. Using a brush also allows you to have a variety of choice and better soaps and cream options.
4. Skins And Exfoliates Your Facial Skin
Exfoliation is not a preserve of the fairer sex. Most men, however, don't naturally include exfoliation in their daily routine.
Shaving brushes exfoliate your skin by removing dirt and dead skin to make your face look younger and cleaner.
It goes without saying that using shaving brushes will give you better results than not using. It gets even better when the brush you use is made from synthetic material.
Using a synthetic shaving brush will always have a positive impact on your shaving experience.
Try out this risk-free investment and get to enjoy not only your daily routine but also a cleaner shave and a healthier and younger look.